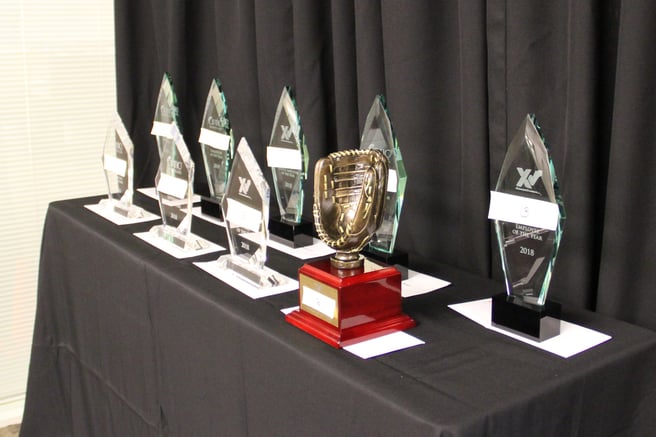 CrossCheck presented its Company Update & 2018 Employee Recognition Award Ceremony on Feb. 27 at the headquarters in Petaluma with staff from the Irving, Texas Telesales office attending via conference video feed.
The event looked back on the previous calendar year, addressed 2019 projections and growth, and recognized employees with awards and prizes for their achievements and efforts. The presentation was followed by separate group luncheons in Petaluma and Irving.
Spirits were high as employees received an inspirational introduction by Executive Vice President and Chief Operating Office Chris Schumacher, who began with the company update.
Company Update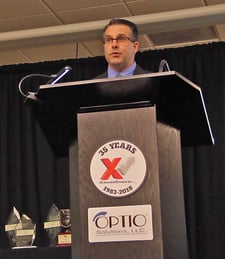 "We are positioned for a good growth year," he said. "I want to thank all of our employees for their contributions and hard work. It is people like you that make CrossCheck a great place to work."
Employee-centric changes were also celebrated during the update, including a relaxed business casual dress code, suggestion boxes, expanded Tuition Reimbursement program, and incentive programs for specific departments such as Sales and Customer Service.
"Changes continue to be made to make CrossCheck a great place to work," said Schumacher.
He also introduced 2019 additions such as the monthly New Hire Meet & Greet with Management.
2018 Employee Recognition Award Ceremony
Six awards and prizes were handed out to CrossCheck employees, including five recognizing achievements in Sales. The categories included most improved, best performance, supervisory excellence, new-employee recognition, and service contributions. Attributes such as ability, efficiency, and team building were highly valued in evaluating each category.
"I was honored to be able to award so many of our employees for their critical contribution to the company," said Schumacher near the close of the awards ceremony.
Working with CrossCheck
CrossCheck makes continual efforts to value our employees and encourages input from all levels of the company.
Employees can expect perks such as healthcare coverage for employees who work over 30 hours a week. The benefit program is offered to employees to assist them in their health, balance of work and personal life, and future financial goals. The following benefits are also available to eligible dependents (spouses, children, and domestic partners):
Medical, dental and vision insurance
401(K) plan with matching company contributions
Monthly socials featuring complimentary food and beverages
Employee of the Month awards
Business-casual dress code
Opportunities for advancement and community giving
Tuition Assistance Policy
Visit our Current Openings page if you are interested in working at CrossCheck.