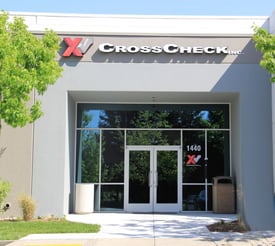 CrossCheck provides U.S. businesses with guaranteed payment solutions as well as a suite of premium enhancements for specific verticals and applications.
CrossCheck services are preferred by merchants in retail automotive, auto aftermarket, motorsports, home furnishings, heavy equipment, building supplies, and construction/renovation as well as medical, dental, and veterinary offices.
Services include Check Verification, Check Guarantee, Remote Deposit Capture, Multiple Check, Home Delivery, Check on Delivery, Stop Payment Protection, and Plus Sales.

These services help merchants increase sales and mitigate risk while saving time and money. CrossCheck offers the highest check approval rates in the industry and even guarantees checks declined by other providers.
Founded in 1983, CrossCheck maintains a corporate office in Petaluma, Calif., and an office in Southlake, Texas.