Helping your customers during hard times can be difficult. It becomes even more daunting when the consumer needs to make substantial payments, like those incurred during an unexpected trip to the veterinarian, the auto repair shop, the dentist, or any number of sudden costs, while balancing other financial responsibilities. As a merchant, being able to offer the consumer an option to pay over time, could seal the deal. CrossCheck, a leading provider of payment solutions, offers Multiple Check. CrossCheck's Multiple Check service with Check Guarantee can make life easier for both consumers and businesses, and especially helps if a customer has already maxed out a credit card.
Multiple Check Allows Consumers Time to Pay
CrossCheck's Multiple Check service is designed to simplify a customer's financial life by allowing them to write several checks that can be deposited at intervals over a period of 30, 60, or 90 days, without the hassle of a credit check. This unique feature gives them the flexibility to spread out payments, making it an ideal solution for various scenarios.
Picture this: someone's beloved pet is unwell. As the veterinarian, you have to recommend a series of treatments and medications. The total cost is significant, and it's a stressful time as the pet owner tries to figure out how to pay for it all. This is where CrossCheck's Multiple Check service comes to the rescue. Instead of paying the entire bill upfront, the pet owner can write several checks, each deposited at different intervals, making it easier to manage their finances during a time of emotional distress.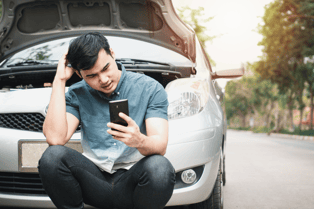 Perhaps a slightly less emotional but nonetheless vital situation is if someone's car needs a major service. The customer likely needs the car for a commute to work. The upfront cost is too high but with CrossCheck's Multiple Check premium, the customer doesn't have to use a credit card with prohibitive interest rates and the merchant won't have to incur credit card surcharge or transfer it to the customer. Instead, the customer can write several checks, deposited over time, which will all be guaranteed by CrossCheck.
Multiple Check by CrossCheck Includes Check Guarantee!
And that is the standout feature of CrossCheck's Multiple Check premium. This feature ensures that payments will reach the bank account, even if a check is returned for insufficient funds. Let's face it; life is unpredictable, and sometimes unexpected financial hiccups occur. With Check Guarantee, your business won't have to worry about checks bouncing. This provides invaluable peace of mind, knowing that your financial transactions are backed by a reputable and reliable service.
Veterinarians, auto repair shops, and a multitude of other businesses can benefit significantly from CrossCheck's Multiple Check service as they can offer this payment option to their clients as a compassionate and practical solution.
We invite you to take advantage of our complimentary consultation to learn more about how CrossCheck's Multiple Check service, with the added assurance of Check Guarantee, can benefit both consumers and businesses. Discover how this payment solution can provide financial peace of mind and enhance your overall financial experience. Contact us today to schedule your consultation and take the first step toward simplifying your financial journey with CrossCheck.