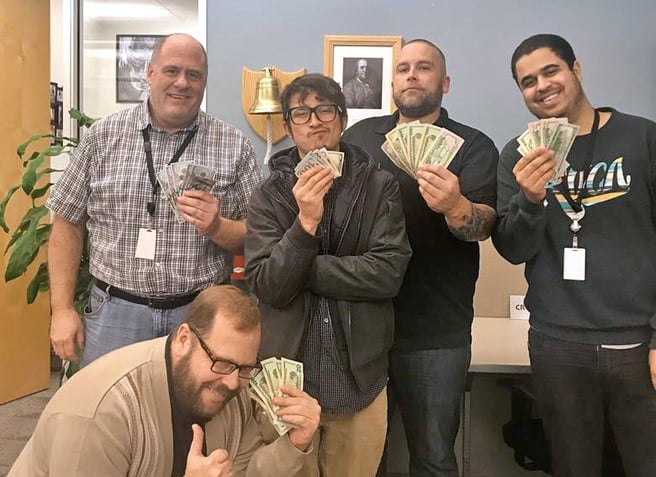 CrossCheck has launched a quarterly sales contest to reward its best-performing sales people. The inaugural competition began January 1 and ends March 31. Sales teams in CrossCheck's Petaluma, Calif. and Irving, Texas offices are eligible. Next quarter's contest begins April 1.
"The efforts of our sales people enhances our public image," said Senior Vice President of Sales Charles Dortch III, "and these sales contests encourage longevity and commitment from our highly valued employees."
Salespeople placing first, second and third in the category of highest new revenue generated during Q1 will earn prizes. This contest is a part of a larger effort to recognize employees for their hard work in contributing to the ongoing success of the 35-year old company.
"Every department in our company contributes to our organizational success, but sales is the engine that powers all of us," said Senior Vice President of Sales Al Arco. "We value our sales people and take pleasure in awarding $5,000 in prize value. Beyond the money, what truly makes this contest so special is that it recognizes our early-year sales leaders, and rewards them with wonderful vacation experiences."
Contest Prizes — Give 'Em What They Want
A recent survey of our sales teams indicated a preference for spending quality time with family and friends over receiving items such as electronics, gift certificates or even cash. Consequently, contest prizes are vacation-oriented.
First Place
The first place winner will receive a $3,000 paid trip to one of three destinations:
Park City Ski Trip — The "Snow" trip. This vacation includes travel arrangements, two nights of hotel accommodations, ski rentals, dinner and spending cash. The winner and a guest will enjoy the crisp mountain air and ski on the frosted slopes of the Continental Divide. Available to both sales teams.
Cabo San Lucas or Miami — The "Sand" trip. This adventure includes travel arrangements, two nights of hotel accommodations, a fishing excursion, dinner and spending cash. The winner and a guest will lounge in their most comfortable swimwear while sipping cold beverages on the beach. Cabo San Lucas is available to the California team while Miami is the destination for the Texas team.
Cruise from Long Beach or Galveston — The "Sea" trip. The third option features cruise tickets, paid transportation to the port, and spending money for excursions and on-board fun for two. A Petaluma winner will depart from Long Beach, Calif. while an Irving winner will board in Galveston.
Second Place
The runner-up receives a $1,500 paid weekend trip to Las Vegas. This sales person and a guest will enjoy two nights at a well-appointed hotel, dinner and show tickets in the Entertainment Capital of the World.
Third Place
The exhilarating third-place prize is a $500 night on the town at a local casino. The winner and a guest will receive first-class treatment at either the Graton Resort & Casino (California winners) or the Winstar World Casino and Resort in Thackerville, Ok. (Texas winners). The package includes show tickets, an upscale dining experience, spending loot, and a $50 gas card.
Rewarding Employees
The quarterly sales contest is just one of the many incentive programs recognizing our employees for their hard work and exceptional job performance. Customer Service representative have their own program that rewards the generation of new business from merchant referrals.
Other employee-centric efforts include a Birthday Paid Day Off, A's and Giants tickets, business casual dress code, and monthly socials with complimentary food and beverages. These events occasionally include fun contests and prizes for the best salsa, BBQ sauce, etc.
CrossCheck works with thousands of active merchants and we hope to bring in even more. Every department is vital to ensuring our continued success in providing the best possible service to help merchants increase sales and mitigate risk while saving time and money. This is the "CrossCheck way" and has been a company-wide commitment since it was founded in 1983.
People interesting in working at CrossCheck may inquire here.