In 1962, ABC broadcasted its first program ever in color. The show was called The Jetsons. As remarkable as that achievement was for the times, the animated sitcom was cancelled after only 24 episodes. In the 1980s, The Jetsons was revived for two short years before being shelved decades ahead of technologies such as digital cameras, cell phones, and virtual auto dealer options. Thankfully through syndication, reruns aired for a generation.
Hanna-Barbera Productions cartooned unthinkable technology in each futuristic episode. Below is a short list of "FAR OUT" technology available only to George Jetson (and in the imagination of the writers) a half century ago that actually exists today. And with the recent successful takeoff and landing of an automobile on August 25, 2020 in Japan, the list just got a little longer.
Rumba (robot assistance)
Ring/Nest smart home technology
Jetpacks
Drones
iPads/tablets
Holograms
Microwave ovens
Smartwatches
GoPro cameras
Interactive newspapers
3-D printed food
Flat screen TVs
Video chat
Smart shoe wear
Futuristic Car Buying
Do you think George Jetson bought his flying car in a Spacely Auto Park showroom? Or did he choose to purchase it from the comfort of his high-rise apartment using virtual auto dealer options?
We just don't know.

I do wonder if only Hanna-Barbera had depicted the scenario back in the day, it would not have taken until the 2020 global pandemic to give auto dealers the motivation to sell cars to individuals without ever stepping foot in their showroom.

Sure, a couple dealers and a major used car player had been doing this prior to ever hearing the word Coronavirus.

Wes Spence is one such dealer from RML Automotive Waxahachie Autoplex in Texas. He would literally bring the car, keys and paperwork to your dining room table for signing. This is the essence of virtual auto dealer options.

After the stress of the initial shutdowns in March and April — in conjunction with the lobbying efforts of the National Automobile Dealers Association (NADA) to help persuade government regulators that retail automotive is an essential business — EVERY American dealership realized it needed contactless or virtual selling capabilities to remain viable.

With such transactions happening away from the dealership, questions arose about how to handle the payment processing. What do dealers do with the down payment check? Shouldn't each dealer have a guarantee for that payment even before they prep the car for delivery?

Well CrossCheck, Inc. has the solution to the payment portion of virtual auto dealer options. It's called Home Delivery.
A Payment Solution for Virtual Auto Dealer Options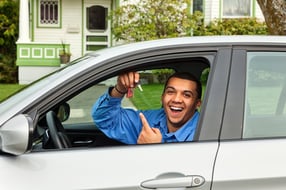 Using CrossCheck's Home Delivery service, dealers pre-authorize customers and approve their checks prior to making auto deliveries. It's safe and easy for dealerships as well as their customers because payments are guaranteed before deliveries are made.
Home Delivery may be bundled with CrossCheck's Multiple Check service, enabling dealers to accept 2 – 4 checks for a single down payment. The deposit date for each check is designated by the customer over a specific window (usually 30 days).
CrossCheck — a 37-year, A+ BBB-rated company — has always been ahead of its time with useful service and premium options.
Instead of thinking "wra wro" like Astro the Space Mutt, dealers may call 888-937-2249 (888-YES-2CHX) or request a Free Consultation to learn how Home Delivery can help increase sales and mitigate risk while saving time and money.