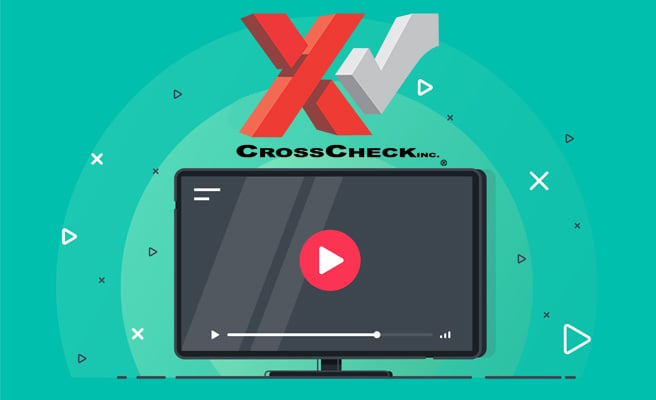 Videos can be a great method of captivating audiences with entertaining visuals. CrossCheck understands this value and works to produce a video whenever the opportunity presents itself. The company has produced a variety of videos over the years that shed some light on CrossCheck and the people behind it. Whether it is a recruiting video, a testimonial, or a fun video, there will always be some hint of CrossCheck flare in the content.
CrossCheck Recruiting Video
Most people considering a new job would like to have a good idea of what they can expect at a place of employment. A great way to showcase what CrossCheck is all about to those considering joining the team is to show it off in a recruitment video.
Our current video grants a window into the workplace and shows off all of the great things about working here. It provides a bounty of information such as benefits and perks to the workplace as well as other cool things about the company. One key highlight of CrossCheck's Petaluma office is our employee Game Room that is fitted with cushy sofas, a 65" 4k TV, foosball, table hockey, a shuffleboard table, and docking stations for recharging phones.
CrossCheck Testimonial
Any business can speak all it wants about how good their products and services are, but how far does that really go? Testimonials are one of the best ways to understand what you are getting into when considering giving a company your business.
Our testimonial video from President Kevin Massie of Napa Ford Lincoln gives a good idea of what it is like using CrossCheck's services as well as the help offered by the Customer Service department. Massie has been a CrossCheck client for many years, making him a good authority to speak about his experiences working with the company.
ACS Pancake Breakfast
Not all videos need to be strictly business. CrossCheck occasionally participates in philanthropic efforts such as fundraising for the American Cancer Society. The management of CrossCheck cooked and served a pancake breakfast — with sausage, eggs, real dairy butter, coffee and orange juice — to employees who donated to the fundraiser. This fun little video shows the teamwork and comradery among management as they work to feed their workforce.
Webinars – Multiple Check
Rather than have someone try and figure things out on their own, a video explaining it can always be a useful tool. CrossCheck has a series of webinar videos that explain some of our most popular services. They work to shed light on everything about our services, including how they help merchants increase sales and mitigate risk while saving time and money.
This video showcases Multiple Check, one of our premium services. Multiple Check is a service that allows consumers to make a large purchase without the use of credit. They simply write 2-4 checks that are to be deposited over a 30-day period. Merchants receive guaranteed funding as each check is deposited, and consumers take their items home on the purchase date without delay.
This video does a better job of explaining it in more depth.
Subscribe!
Be sure to visit our Youtube channel to check out the rest of our videos and subscribe to keep up to date about any new CrossCheck content that will be released in the future!