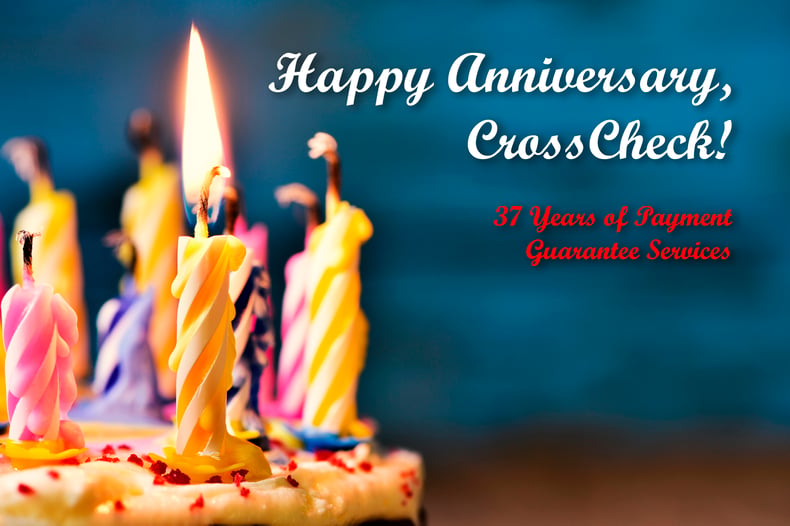 FOR IMMEDIATE RELEASE
Petaluma, Calif. (Oct. 28, 2020) — CrossCheck, Inc., an established leader in the payment solutions industry, marked its 37th corporate anniversary on Oct. 15. The firm's check processing services have been used by hundreds of thousands of U.S. merchants to finalize sales that would otherwise not happen without CrossCheck standing behind each transaction. Established in 1983, CrossCheck maintains a headquarters in Petaluma, Calif. and an office in Southlake, Texas.
"Our success is due, in part, to evolving with an ever-changing marketplace and focusing on industries where our services expedite large consumer purchases," said President and CEO J. David Siembieda. "In addition, we have experienced continued growth via diversification and strategic partnerships with national brands."
CrossCheck is the exclusive check guarantee company for the largest retail automotive group in the country, a nationwide supplier of commercial gases, and a well-known chain of veterinary clinics. It also services numerous locations within a national home furnishings chain as well as a national distributor of plumbing, electrical and HVAC supplies.
Furthermore, CrossCheck partnered with multi-channel payment solutions company CenPOS in 2017 to provide cloud-based solutions such as Electronic Bill Presentment & Payment, Recurring Billing Systems, Electronic Check Processing and Check Guarantee.
In October 2016, the company launched a desktop app named Focus that creates a virtual terminal for merchants wanting convenient check processing functionality at their fingertips. The latest upgrade, v 1.5.6, was released in August 2020.
CrossCheck maintains an A+ rating from the Better Business Bureau (BBB) and belongs to notable national, state and local industry affiliations in financial services, retail automotive, and home furnishings.
Finally, philanthropy is a large part of the CrossCheck culture. Employees frequently contribute to a variety of causes including the Alzheimer's Association, American Cancer Society, Redwood Empire Food Bank, Salvation Army's Angel Tree program and numerous American Red Cross campaigns. They also volunteer at local programs to help support the American Cancer Society and Redwood Empire Food Bank.
About CrossCheck
CrossCheck, Inc., an established leader in the payment solutions industry, processes billions in check-transaction dollars annually throughout the United States. Since 1983, it has helped increase profits and reduce risk for businesses in verticals such as automotive, auto aftermarket, building materials, home furnishings, specialty retail, medical-dental and veterinary by providing efficient and affordable check verification, guarantee and conversion services. CrossCheck's suite of services includes check conversion technology, web-based transactions, remote deposit capture and premium products for specific industries and applications. The company has offices in Petaluma, Calif. and Southlake, Texas.
Contact
Editor Joe Gargiulo
707-665-2100, ext. 9501
joeg@cross-check.com