FOR IMMEDIATE RELEASE

Petaluma, Calif. (October 20, 2020) — CrossCheck, an established leader in the payment solutions industry, has released v 1.5.6 of Focus, a desktop app offering a virtual terminal. This upgrade provides merchant customers with enhanced options for accepting payments. Focus runs directly on a computer and eliminates the need for interfacing with a web browser while offering improved data security.

"Focus enables merchants to quickly authorize guaranteed checks and prepare them for deposit into their business accounts," said CrossCheck President and CEO J. David Siembieda.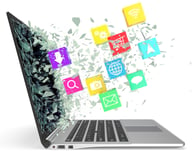 Launched in 2017, Focus was developed by software specialists within the CrossCheck Information Systems department. The app allows merchants to accept payments using CrossCheck's most popular services and no-fee loaner equipment program.
Focus v 1.5 provided additional support for the Check on Delivery and Business Office Conversion Plus services as well as the Panini I:Deal check scanner used in electronic check processing.
Specific enhancements in v 1.5.6 include options for the user Activity Stream (No Reporting Rights, or reporting for up to 30 days and 100 items) and more.
"We listened to our merchant customers and simplified the process while expanding payment options," said Vice President Steve Florczak, Information Services. "We also added features that are important to merchants."
Future versions of Focus will include added support for check authorization workflows and reporting functions.
How does Focus work?
Merchants conduct a one-time download and installation of Focus on their computers with the help of CrossCheck Tech Support. There is no additional charge for the desktop app.
Focus interfaces with check scanners via a USB cable and the computer's Ethernet connection to access CrossCheck's check approval process.
About CrossCheck
CrossCheck, Inc., an established leader in the payment solutions industry, processes billions in check-transaction dollars annually throughout the United States. Since 1983, it has helped increase profits and reduce risk for businesses in verticals such as automotive, auto aftermarket, building materials, home furnishings, specialty retail, medical-dental and veterinary by providing efficient and affordable check verification, guarantee and conversion services. CrossCheck's suite of services includes check conversion technology, web-based transactions, remote deposit capture and premium products for specific industries and applications. The company has offices in Petaluma, Calif. and Southlake, Texas.
###
Contact
Joe Gargiulo
707-665-2100 x9501
joeg@cross-check.com
www.cross-check.com