FOR IMMEDIATE RELEASE
Petaluma, Calif. (Dec. 3, 2019) — Employees from CrossCheck and its affiliate, Optio Solutions, kicked off the holiday season by donating 25 turkeys to the Redwood Gospel Mission's 2019 Great Thanksgiving Banquet. The 400 pounds of fresh and frozen turkeys were delivered Nov. 25 in time for the mission's hot turkey dinner celebration (11 am to 7 pm, Wed., Nov. 27) at the Sonoma County Fairgrounds. The multi-purpose gathering helps families in need as well as the homeless.
"Donating Thanksgiving turkeys is a longstanding company tradition," said CrossCheck CEO and President J. David Siembieda. "It's also part of our 'holiday giving trifecta' that continues with our participation in the Redwood Empire Food Bank's Holiday Food and Funds Drive and the Salvation Army Angel Tree program."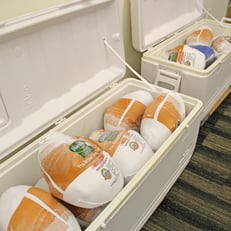 Organizers and volunteers at the mission aggregated bags of donated food items between Oct. 15 and Nov. 26. Volunteers will prepare and serve meals at dinner or provide further support for the other scheduled activities.
"The Great Thanksgiving Banquet has been a vital part of our community outreach for over 20 years," states the mission. "We will serve up to 5,000 hot turkey meals. There will be haircuts, coat give away, medical evaluation, foot washing, family food bags, games, and many other activities. We will conduct chapel services with the Gospel message. All these services are provided free of charge. Everyone is welcome!"
About the Redwood Gospel Mission
The Redwood Gospel Mission began as a 14 bed shelter in 1963 and now mobilizes the community to minister to the needy through a variety of homeless services, recovery programs, vocational training, jail ministries, outreach events and a thrift store. The organization serves all of Sonoma County and parts of the surrounding counties which have no rescue ministries.
About CrossCheck
CrossCheck, Inc., an established leader in the payment solutions industry, processes billions in check-transaction dollars annually throughout the United States. Since 1983, it has helped increase profits and reduce risk for businesses in verticals such as automotive, auto aftermarket, building materials, home furnishings, specialty retail, medical-dental and veterinary by providing efficient and affordable check verification, guarantee and conversion services. CrossCheck's suite of services includes check conversion technology, web-based transactions, remote deposit capture and premium products for specific industries and applications. The company has offices in Petaluma, Calif. and Irving, Texas.
About Optio Solutions
Optio Solutions, LLC is a national debt collection agency focused on improving the ROI of clients and protecting their brands via extensive financial services experience, advanced technology, certified data security, legal compliance and professionally designated staff. Optio is a member of ACA International and the California Association of Collectors.
###
Contact
Andrew Donahey
707-665-2100 x9503
andrewd@cross-check.com
www.cross-check.com