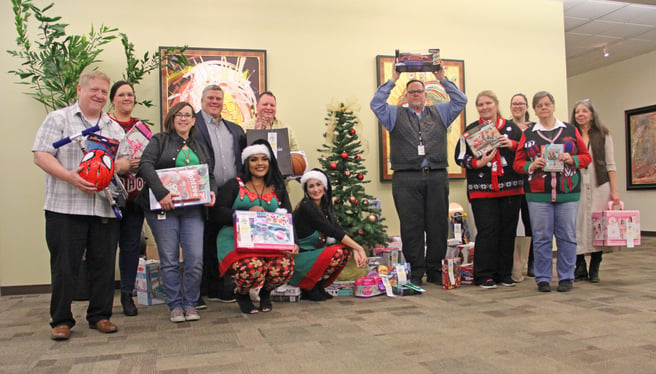 FOR IMMEDIATE RELEASE
Petaluma, Calif. (Dec. 18, 2019) — Employees of CrossCheck and affiliate Optio Solutions continued their tradition of holiday giving by participating in the Salvation Army Angel Tree program and the Redwood Empire Food Bank's Annual Food & Funds Drive. Staff members placed 50 gifts under the Angel Tree and contributed enough non-perishable foods to fill three 50-gallon barrels. All donated items were ready for pickup on Dec. 13 at the Petaluma headquarters of the financial services companies.
"The Angel Tree program and the Annual Food & Funds Drive represent the last two steps in a yearly cycle of community giving by our employees," said CrossCheck President and CEO J. David Siembieda. "Their generous contributions of time and money will continue into 2020 with monthly volunteer efforts at the food bank as well as fundraising for the American Cancer Society and ACA International Education Foundation."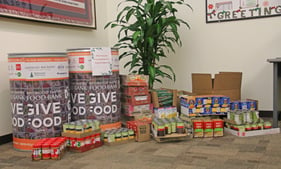 The Salvation Army provides hope and relief to low-income families, shut-ins, children of the incarcerated, and the homeless through projects such as Angel Tree, Grocery and Food Assistance, Bill-Pay Assistance, Red Kettle and holiday visits to hospitals and nursing homes.
The Petaluma Corps of the Salvation Army organizes fundraising efforts and provides other ways for local people to help their community via volunteer work or donations.
The Angel Tree program collects holiday gifts for families who don't have the resources to celebrate Christmas as a result of medical issues, unemployment, homelessness or other difficult circumstances. Found in local malls, companies and churches, Angel Trees are decorated with paper angel tags bearing the age and gender of children with corresponding gift suggestions for benefactors.
The Redwood Empire Food Bank (REFB) is the largest hunger-relief organization serving north coastal California from Sonoma County to the Oregon border. Since 1987, the REFB has provided food and nourishment to those facing hunger, currently serving 82,000 children, families and seniors in Sonoma County, while striving to end hunger in our community.
The food bank's Annual Food & Funds Drive provides the opportunity for community organizations and businesses to help the reported one-in-six Sonoma County residents who struggle to afford basic nutrition.
About CrossCheck
CrossCheck, Inc., an established leader in the payment solutions industry, processes billions in check-transaction dollars annually throughout the United States. Since 1983, it has helped increase profits and reduce risk for businesses in verticals such as automotive, auto aftermarket, building materials, home furnishings, specialty retail, medical-dental and veterinary by providing efficient and affordable check verification, guarantee and conversion services. CrossCheck's suite of services includes check conversion technology, web-based transactions, remote deposit capture and premium products for specific industries and applications. The company has offices in Petaluma, Calif. and Irving, Texas.
About Optio Solutions
Optio Solutions, LLC is a national debt collection agency focused on improving the ROI of clients and protecting their brands via extensive financial services experience, advanced technology, certified data security, legal compliance and professionally designated staff. Optio is a member of ACA International and the California Association of Collectors. The company has offices in Petaluma, Calif. and Fargo, North Dakota.
###
Contact
Andrew Donahey
707-665-2100 x9503
andrewd@cross-check.com
www.cross-check.com