1,880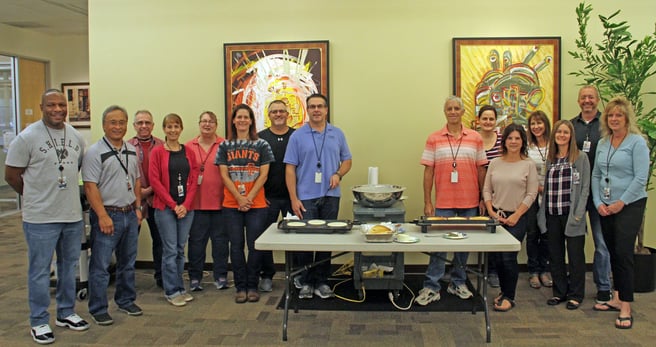 FOR IMMEDIATE RELEASE
Petaluma, Calif. (Oct. 2, 2019) — Employees of CrossCheck and its subsidiary, Optio Solutions, contributed $1,880 to the American Cancer Society during a summer fundraising campaign held at three company locations. The effort consisted of special dress down days in Petaluma, Calif.; Irving, Texas; and Fargo, N.D. and a pancake breakfast in Petaluma. A team of company volunteers also worked the registration tent at the Relay for Life of Southern Sonoma County on Sept. 14.
"This is our eleventh consecutive year of assisting the American Cancer Society and we couldn't be more proud of the staff members who contributed time and money to such a worthy cause," said CrossCheck President and CEO J. David Siembieda.
The dress down campaign lasted from July 16 through Aug. 15. Employees donating $20.00 were permitted to wear work-appropriate shorts, athletic pants, T-shirts, flip flops, sports-team jerseys, jackets and caps for a two-week period. Some employees extended the ultra-casual dress code to a full month by donating another $20.00.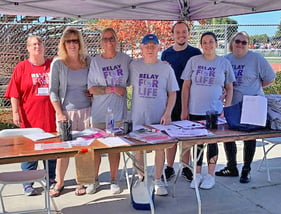 Furthermore, over 100 staff members donated $5.00 each to partake in the August 21 pancake breakfast at the Petaluma headquarters of both companies. Cooked and served by management, the hearty meal consisted of generous portions of pancakes with maple syrup and butter, scrambled eggs, sausage, orange juice and coffee.
Finally, a group of volunteers from CrossCheck and Optio Solutions staffed the registration tent between 8:00 am and 10:00 pm on Sept. 14 at a local Relay for Life (Casa Grande High School, 333 Casa Grande Rd., Petaluma).
About the American Cancer Society
The American Cancer Society (ACS) funds and conducts research while sharing expert information, supporting patients, and spreading the word about cancer prevention. The ACS has contributed to efforts that have resulted in a 25 percent drop in the overall cancer death rate in the United States. That drop equates to 2.1 million fewer cancer deaths between 1991 and 2014. Progress continues and is currently estimated at 500 fewer cancer deaths each day.
About CrossCheck
CrossCheck, Inc., an established leader in the payment solutions industry, processes billions in check-transaction dollars annually throughout the United States. Since 1983, it has helped increase profits and reduce risk for businesses in verticals such as automotive, auto aftermarket, building materials, home furnishings, specialty retail, medical-dental and veterinary by providing efficient and affordable check verification, guarantee and conversion services. CrossCheck's suite of services includes check conversion technology, web-based transactions, remote deposit capture and premium products for specific industries and applications. The company has offices in Petaluma, Calif. and Irving, Texas.
About Optio Solutions
Optio Solutions, LLC is a national debt collection agency focused on improving the ROI of clients and protecting their brands via extensive financial services experience, advanced technology, certified data security, legal compliance and professionally designated staff. Optio is a member of ACA International and the California Association of Collectors. The company maintains a headquarters in Petaluma, Calif. and a call center in Fargo, N.D.
###
Contact
Andrew Donahey
707-665-2100 x9503
andrewd@cross-check.com
www.cross-check.com