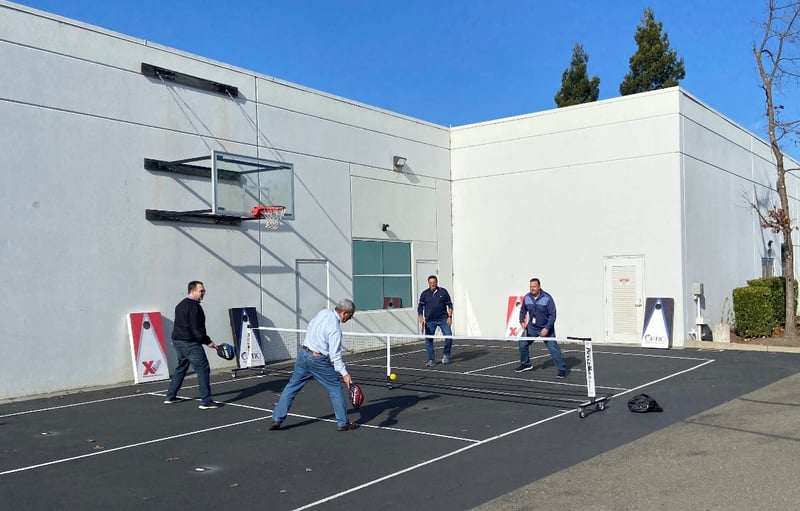 FOR IMMEDIATE RELEASE
Petaluma, Calif. (April 27, 2023) — Is Pickleball truly exploding across the country? Are businesses embracing Pickleball as an activity for employees to enjoy on breaks and during lunch hours?
A recent CNBC report stated 36.5 million Americans played the game in a 12-month span. MSN reported just three weeks ago that Walmart was offering a play-for-free program to employees and customers. As quick as you can say "Zero-Zero-Two," one such business in Northern California also jumped on the pickleball bandwagon.
CrossCheck, Inc., a financial services company headquartered in Petaluma, California, recently repainted its outdoor basketball court with pickleball lines. Al Arco, a US Senior Pickleball (USSP) Ambassador from Denton, Texas, was on hand to give three separate groups quick tutorial training and play games with employees of this 40-year Sonoma County business.
J. David Siembieda, President and CEO, even got into the action. "The game is fun for all and a tremendous way for our employees to gather and bond."
About CrossCheck
CrossCheck, Inc., an established leader in the payment solutions industry, processes billions in check-transaction dollars annually throughout the United States. Since 1983, it has helped increase profits and reduce risk for businesses in verticals such as automotive, auto aftermarket, building materials, home furnishings, specialty retail, medical-dental and veterinary by providing efficient and affordable check verification, guarantee, and conversion services. CrossCheck's suite of services includes conversion technology, web-based transaction, remote deposit capture and premium products for specific industries and applications. The company has offices in Petaluma, Calif. and Southlake, Texas.
About US Senior Pickleball
The mission of US Senior Pickleball (USSP) is to support the growth of pickleball around the world through a social, competitive environment for players of all skill levels ages 50 plus. With Thousands of members and 53 Tournaments Scheduled, USSP is the Premier Tournament association of Senior Pickleball players. US Senior Pickleball is the one organization dedicated to seniors who want to participate in this sport and play in tournaments within their age/skill group.

Contact
marketing@cross-check.com
707-665-2100