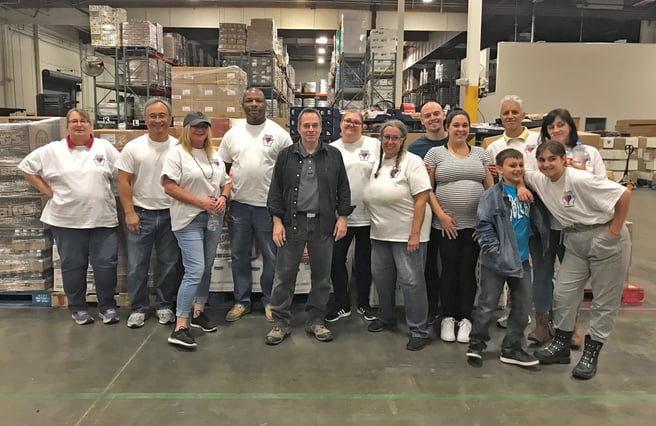 FOR IMMEDIATE RELEASE
Petaluma, Calif. (Dec. 26, 2019) — Employees from CrossCheck and affiliate, Optio Solutions, have reached 20 consecutive months of volunteer work at the Redwood Empire Food Bank. The latest participation in the food bank's weekday Warehouse Support program effort was Dec. 17. The team is composed of 12 volunteers per month on average.
The unified effort was initiated in May 2018 by CrossCheck Senior Vice President Charles Dortch III at the corporate headquarters in Petaluma. He continues to organize the team and work a two-hour shift at the food bank each month.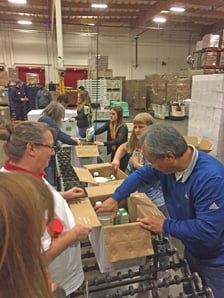 CrossCheck and Optio employees packed a combination of grocery boxes, non-perishable items, and fresh produce between January and December 2019. The yearly data represents approximately 424 man-hours, 110,768 pounds of food, and 92,272 meals for people in need.
"We have a group of over 30 staff members who participate one or more times during the year," said Dortch, "but the same employees don't contribute each and every month."
He is joined by other senior vice presidents as well as members of the executive staff.
"It's great to see management and employees coming together to support our community," said CrossCheck President and CEO J. David Siembieda. "Charles is doing a great job organizing our monthly volunteer night at the food bank."
The Redwood Empire Food Bank (REFB) is the largest hunger-relief organization serving north coastal California from Sonoma County to the Oregon border. Since 1987, the REFB has provided food and nourishment to those facing hunger, currently serving 82,000 children, families and seniors in Sonoma County while striving to end hunger in the community.
Evening Warehouse Support shifts are scheduled Monday through Thursday from 5 – 7 pm, but a variety of other volunteer opportunities are offered throughout the week (see the REFB Volunteer page for days and times.)
About CrossCheck
CrossCheck, Inc., an established leader in the payment solutions industry, processes billions in check-transaction dollars annually throughout the United States. Since 1983, it has helped increase profits and reduce risk for businesses in verticals such as automotive, auto aftermarket, building materials, home furnishings, specialty retail, medical-dental and veterinary by providing efficient and affordable check verification, guarantee and conversion services. CrossCheck's suite of services includes check conversion technology, web-based transactions, remote deposit capture and premium products for specific industries and applications. The company has offices in Petaluma, Calif. and Irving, Texas.
###
Contact
Andrew Donahey
707-665-2100 x9503
andrewd@cross-check.com