FOR IMMEDIATE RELEASE
Petaluma, Calif. (October 16, 2017) — CrossCheck, a payments guarantee company, marked its 34th anniversary on October 15. The company was established in 1983 with the goal of creating cost-effective check processing services that offer the highest approval rates in the industry. Over the years, the privately owned firm has realized cumulative growth via diversification and new business opportunities while providing payment solutions to hundreds of thousands of merchants across the nation.
"The success of the CrossCheck business model can be attributed to evolving with an ever-changing marketplace and providing payment solutions that help our customers increase profits," said President and CEO J. David Siembieda. "Studies show that checks continue to be the preferred method of making B2B payments and large consumer purchases."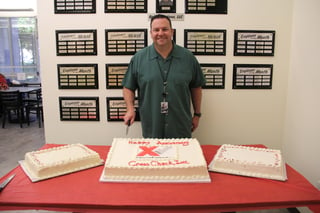 CrossCheck's Check Guarantee, check verification and Remote Deposit Capture services enable merchants to increase sales revenue, save time and money, and mitigate risk.
In addition, premium services such as Multiple Check and Check on Delivery (COD) offer greater functionality for specific industry verticals: Multiple Check provides flexible payment options for consumers (e.g. auto, home furnishings or veterinary) needing extra time to pay while Check on Delivery guarantees the sale of delivered building materials and auto parts.
In October 2016, the company launched Focus, a desktop application offering merchants a virtual terminal for convenient check processing.
CrossCheck maintains an A+ rating from the Better Business Bureau (BBB) and belongs to some of the most notable national, state and local industry affiliations in payments and financial services, automotive, auto aftermarket, building materials and home furnishings.
Employees are frequent contributors to a variety of philanthropic efforts, including the Alzheimer's Association, American Cancer Society, Redwood Empire Food Bank, Salvation Army's Angel Tree program and numerous American Red Cross campaigns.
"Our dedicated employees contribute to the vitality of the local economy and believe in giving back to the community," said Siembieda.
About CrossCheck
CrossCheck, Inc., an established leader in the payment solutions industry, processes billions in check-transaction dollars annually throughout the United States. Since 1983, it has helped increase profits and reduce risk for businesses in verticals such as automotive, auto aftermarket, building materials, home furnishings, specialty retail, medical-dental and veterinary by providing efficient and affordable check verification, guarantee and conversion services. CrossCheck's suite of services includes check conversion technology, web-based transactions, remote deposit capture and premium products for specific industries and applications. The company has offices in Petaluma, California and Irving, Texas.
###
Contact
Andrew Donahey
Phone: 707-665-2100, ext. 9503
Email: andrewd@cross-check.com
Website: www.cross-check.com