FOR IMMEDIATE RELEASE

Petaluma, Calif. (June 15, 2018) — CrossCheck, a leading payments guarantee company, has published a guide to help stimulate parts sales at auto dealerships. The 34-year-old financial services organization supports merchants in retail automotive, building supply, home furnishings, auto aftermarket, heavy equipment and other verticals with free "how-to" guides and blog articles as part of its commitment to helping increase revenue, mitigate risk and simplify transactions.

The 3,000-word guide reviews the available tools for impacting parts sales at auto dealerships — dealer management systems (DMS), pricing, customer relationship managers (CRM), merchandising and key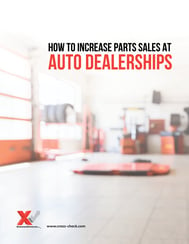 performance indicators (KPI) — and provides a simple approach to making each of those systems work toward increasing overall revenue.
"As expected, technology plays a major role in increasing parts sales because dealer management systems provide the framework for implementing change," said Marketing Director Andrew Donahey. "For example, the CRM suite can generate reports identifying potential parts buyers among existing service department contacts while web content can be designed to reach new parts customers around the globe."
"How to Increase Parts Sales at Auto Dealerships" also offers expert opinion on pricing strategies (brick and mortar as well as online), how to establish virtual storefronts, merchandising and customer service.
Finally, the guide points out that departmental silos existing within some companies may inhibit them from finding an ongoing stream of solutions to increase revenue. This problem can be solved by implementing cooperative programs and practices involving two or more departments. After launch, the unified efforts can be tracked week-to-week and month-to-month using analytics provided by the DMS' accounting module with the potential for real-time adjustments as needed.
Downloading 'How to Increase Parts Sales at Auto Dealerships'
The guide can be downloaded via the CrossCheck website and is a useful tool for dealership managers in departments including parts, service, F&I and sales.
About CrossCheck
CrossCheck, Inc., an established leader in the payment solutions industry, processes billions in check-transaction dollars annually throughout the United States. Since 1983, it has helped increase profits and reduce risk for businesses in verticals such as automotive, auto aftermarket, building materials, home furnishings, specialty retail, medical-dental and veterinary by providing efficient and affordable check verification, guarantee and conversion services. CrossCheck's suite of services includes check conversion technology, web-based transactions, remote deposit capture and premium products for specific industries and applications. The company has offices in Petaluma, California and Irving, Texas.
###
Contact
Andrew Donahey
707-665-2100 x9503
andrewd@cross-check.com
www.cross-check.com