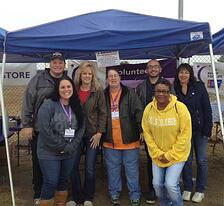 PETALUMA, Calif. – CrossCheck, Inc., a national payment approval and guarantee company, was one of the top teams in the Petaluma, CA American Cancer Society Relay For Life. Among 69 teams, CrossCheck was the fourth top fundraiser in the Petaluma Casa Grande Relay, with its donation of over $7,100, placing them in Gold Level status.
Prior to race day, employees donated money to participate in dress down months, enjoyed pizza lunch fundraisers, and more. Several CrossCheck employees also worked through the rainy relay day as volunteers during the relay weekend, held September 21 and 22, 2013 at Casa Grande High School in Petaluma, California.
"I'm proud to see just how much our entire company comes together for this event every year," said J. David Siembieda, CrossCheck President and CEO. "It's exciting to see employees give of themselves, even outside the workplace. And of course, it feels good to know that even the littlest bit helps such a great organization."
American Cancer Society Relays are held throughout the US and in 19 other countries. More than 4 million people participate in the events each year. Information about the national event, getting involved and upcoming dates and locations can be found at www.relayforlife.org
About CrossCheck, Inc.:
CrossCheck, Inc., an established leader in the payments industry, processes and approves billions of dollars worth of check transactions annually for retail and dealer outlets throughout the U.S. For more than 30 years, its goal has been to increase merchants' profits by providing efficient and affordable check approval, guarantee and conversion services that can help increase sales and reduce risk. The company is headquartered in Petaluma, California, and has offices in Phoenix, Arizona and Dallas, Texas. CrossCheck's suite of services includes check conversion technology, ACH, web-based transactions, and remote deposit capture products. Visit www.cross-check.com for more information.
###
For more information, contact:
Andrew Donahey, Director of Marketing
Phone: (707) 665-2100, ext. 9503
Fax: (707) 586-1884
Website: www.cross-check.com