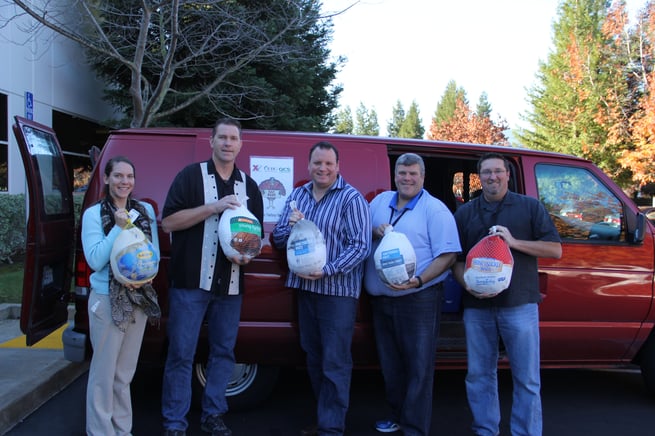 Press Release
For Immediate Release: November 19, 2015
Petaluma, Calif. – CrossCheck, Inc., a leading provider of check processing services, has donated turkeys to COTS (Committee on the Shelterless) for the fifth consecutive year to feed hundreds of community members on Thanksgiving Day at the Petaluma Kitchen. CrossCheck employees donated 109 turkeys this year, bringing the total weight of turkeys donated since 2011 to nearly 8,000 pounds.
According to COTS, "over 9,000 people will experience homelessness in Sonoma County this year, and 2,200 people will find help and hope at COTS. This includes children, families, adults and veterans." COTS is a non-profit organization that provides about 350 beds nightly and serves over 124,000 meals each year through their Petaluma kitchen.
J. David Siembieda, President and CEO of CrossCheck, Inc. said, "CrossCheck is proud to donate to COTS again through our 5th annual Thanksgiving Turkey Drive.These past four Turkey Drives have been amazing and our fifth year has broken all records!"
In 2011, CrossCheck donated 87 turkeys to COTS and the count has increased steadily. In 2012, 89 turkeys were donated. In 2013 and 2014, 99 turkeys were donated each year and this year's count was a record breaking 109 turkeys. With each bird averaging 16 pounds, that's nearly 8,000 pounds!
Siembieda went on to say, "I'm very proud of our team here at CrossCheck; it's this sense of family and community that epitomizes the true meaning of the holidays, coming together to help one another in any way that we can."
Philanthropy is a large part of CrossCheck's culture. Many employees volunteer or donate to the Redwood Empire Food Bank, the Salvation Army's Angel Tree program, the American Cancer Society's Relay for Life, and most recently, the American Red Cross for Valley Fire victims.
For volunteer opportunities with COTS and to find out more, visit www.cots-homeless.org or call (707) 765-6530.
About CrossCheck, Inc.:
CrossCheck, Inc., an established leader in the payments industry, processes and approves billions of dollars worth of check transactions annually for retail and dealer outlets throughout the U.S. For more than 30 years, its goal has been to increase merchants' profits by providing efficient and affordable check approval, guarantee and conversion services that can help increase sales and reduce risk. The company has offices in Petaluma, California, Phoenix, Arizona and Dallas, Texas. Their suite of services includes check conversion technology, ACH, web-based transactions and remote deposit capture products.Visit www.cross-check.com for more information.
For More Information Contact:
Andrew Donahey
Phone: (707) 665-2100, ext. 9503
Email: andrewd@cross-check.com
Website: www.cross-check.com