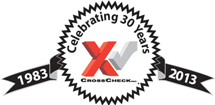 PETALUMA, Calif. – CrossCheck, Inc., a national payment approval and guarantee company announces thirty years of business as a nationwide provider of check processing services to retailers, building supply businesses, medical offices and automotive dealerships. CrossCheck has been a leading developer of check authorization and payment processing technology since opening their doors in Petaluma, California in 1983.
Since 1983 CrossCheck has worked with thousands of merchants and automotive dealers to provide check authorization services including check guarantee and check verification. Payment authorization services benefit merchants by reducing their risk and allowing them to offer a popular payment choice to their customers.
"The payment industry has evolved tremendously since we opened our doors thirty years ago and we've seen some exciting changes come about including remote deposit capture, ecommerce, and mobile technology. We expect the next thirty years to be just as amazing. I look forward to seeing CrossCheck continue to serve our clients in the years to come with innovative products and services that facilitate payment acceptance and provide convenience and efficiency at the same time," said CrossCheck's President and CEO, J. David Siembieda.
CrossCheck was one of the first companies to provide their merchants with electronic check conversion for deposit without a trip to the bank and premium services such as Future Deposit/Multiple Check which provide payment flexibility for customers needing extra time to pay.
CrossCheck's check processing services, including remote deposit capture, check guarantee and check verification, are marketed through a direct sales force, independent resellers and affiliates. In addition to the Petaluma headquarters, CrossCheck has sales offices in Texas and Arizona. The privately held company has over 200 employees.
CrossCheck is a member of payment industry associations including the Electronic Transaction Association (ETA), an international trade association that serves transaction processing products and service providers, retail associations including the National Home Furnishings Association (NHFA) and Western Home Furnishings Association (WHFA), and several automotive business associations. CrossCheck has an A+ rating from the Better Business Bureau (BBB).
About CrossCheck, Inc.
CrossCheck, Inc., an established leader in the payments industry, processes and approves billions of dollars worth of check transactions annually for retail and dealer outlets throughout the U.S. For 30 years, its goal has been to increase merchants' profits by providing efficient and affordable check approval, guarantee and conversion services that can help increase sales and reduce risk. The company has offices in Petaluma, California, Phoenix, Arizona and Dallas, Texas. Their suite of services includes check conversion technology, ACH, web-based transactions and remote deposit capture products. Visit www.cross-check.com for more information.