Multiply Sales
with Multiple Check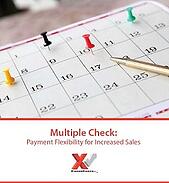 Stop losing sales from customers who don't make a full payment at the time of purchase. Multiple Check offers customers a flexible payment option.

Multiple Check works especially well for merchants selling high-ticket items:
Auto dealerships and repair shops

Home furnishing stores

Medical, dental, and veterinary offices
Get These One-of-a-Kind Benefits
A Proven method of preventing lost customers and sales.


A quick and easy way to approve checks at the point of sale.

A process that is superior to layaway.
"Multiple Check can lead to more vehicle service orders ... and more profit ... It's work that would have been denied because our customers didn't have the funds." — Midwest Auto Dealership

Submit the form to download the free guide.