C.A.R.S. Does What Other Services Can't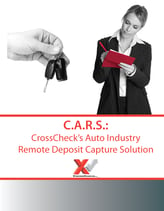 C.A.R.S. includes the fastest type of guaranteed Electronic Check Processing, a future deposit function, Check on Delivery for parts sales to local shops, and other merchant advantages … all with funding in 24 – 48 hours.

Exclusive Benefits
Accept more checks to complete more sales.

Consolidate reporting and banking day or night.


Free loaner equipment.

More details inside the guide.
"The C.A.R.S. program streamlines check processing and even allows us to offer customers a future deposit program. With this service in place, we sell more units!" — Nationwide Automotive Company
Use the Multiple Check premium to make the sale!



No credit or credit checks required.

Customers can write 2 - 4 checks for a single transaction.

Consumers buy today and replenish checking accounts to pay (usually over 30 days).

A Word from President Kevin Massey of Napa Ford Lincoln
Submit the form to download the free guide now.