With elaborate booths, speakers the likes of Jeb Bush and Jay Leno, hundreds of exhibitors and 8,000 plus dealerships represented, NADA 2015 leaves us awestruck!
Marquees welcome conventioneers while models, magicians and money woo auto dealers to booths for the exhibitor's hope of 30 seconds focused on their pitch. For many, this show will make or break their year, so the sales pressure is on -- which may explain why Exhibitors ignore all show attendees except the ones possessing the "Manager" or "Dealer" ribbon on their registration badge.
Music is everywhere. There's the spectacle of St. Gabriel's Celestial Brass Band, a Chinese New Year's Dragon and his ferocious drummers, and as this article is being written, an unexpected and original Industrial Garbage Can Band strides by on stilts. Wherever the bands go they bring the energy and the amateur paparazzi to a frenzied pitch.
Every available space Moscone and the surrounding area has to offer has been commandeered for the purposes of showcasing the auto industry to auto dealers. Even AT&T Park is experiencing NADA's eminent domain.
The National Association of Automobile Dealers has kept it fun too. They have a contest awarding $1,000 to the attendee that walks the most, with steps being recorded on a pedometer and turned in nightly. The first day's longest walker covered an astounding ... 38,000 steps! 10,000 steps by this writer didn't even crack the top 50.
The best booth award is always contentious, but not this year. Dealertrack has it locked down with blue neon, interactive large screen work stations and a stadium like scoreboard.
Ford wins for it's geo-marketing efforts. They made sure to appeal to the locals' sense of pride, outfitting display cars in World Series champs' colors, Orange and Black.
This F150 is tastefully splashed with orange and black, and then there's this F750 monster: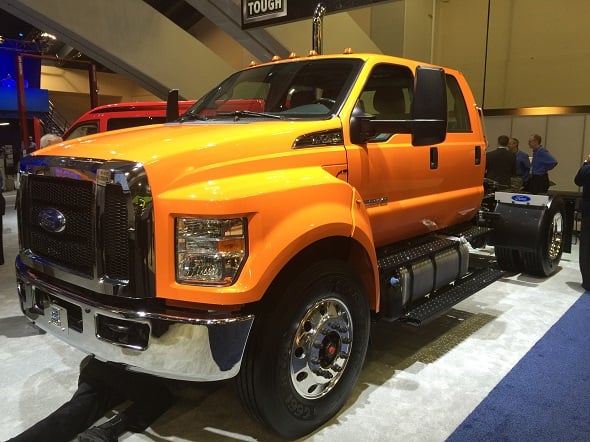 So what's next on the NADA 2015 beat? Celebrities galore. Get this A-List that NADA exhibitors are sponsoring: Reggie Jackson, Steve Young, Jerry Rice and some guy named Joe Montana. Here's the complete schedule. Joe and Steve are not wearing uniforms ... sorry.
If that's not enough, there's all the beauty that a world class city like San Francisco has to offer. Nightlife, food, cultural happenings, breweries, music, sports, you name it, San Francisco has it. Need some help in deciding what to do with your free time? Check out this hand picked list:
If you're looking for payment certainty, look no further than check guarantee and CrossCheck at Booth 1331S. Stop by and learn from Charles, Alan or Eric how CrossCheck can mitigate risk, increase sales and improve customer satisfaction.
Visit our booth and who knows, maybe you'll win $500 like Gus Beffa, General Manager, of Chris Auffenberg Family of Dealerships: