Since an ISO's goal is to maximize revenue, it's in his or her best interest to have check services in his portfolio. But choosing the appropriate provider encompasses many factors: Company reputation, system reliability and compatibility, and ongoing support. Often times, a Retail Systems Support (RSS) department is an ISO's point of contact at a check service provider. The RSS team works very closely with ISOs and merchants alike, recommending specific service types, setting up equipment in-store, and troubleshooting technical issues that may arise. To help prepare ISOs in learning what the relationship is like selling check services with a provider, a member of CrossCheck's RSS department was interviewed. Read more about what assistance is available and why ISOs should be selling CrossCheck's suite of products to their merchants:
Interviewer: Does the Retail Systems Support department speak with ISOs or merchants more often?
RSS: A majority of the calls RSS departments get are from merchants looking to get their equipment set up. It's the RSS' job to make sure merchants receive the correct equipment and get them set up as quickly as possible so they can start scanning and processing customers' checks. But, the RSS team does receive a fair amount of calls from ISOs. In these instances, the ISO is primarily asking about compatibility with questions such as, "Do you support 'X' terminal?" "What can we do to make this work for my merchants?" "How does this particular CrossCheck service work?"
Interviewer: What are the biggest challenges for ISOs?
RSS: ISOs can feel overwhelmed because there are so many equipment combinations. ISOs may not know which equipment is appropriate for their merchants. Not to worry, RSS members are happy to provide the necessary coaching to meet the ISO's goals.
Think of it like going to a restaurant. You sit down at the table and the menu is 10 pages deep, but all you really want is a low-calorie chicken sandwich that's not too spicy but still rich in flavor. You can ask the wait staff for a recommendation based on his or her preferences. The same principle applies with Retail Systems Support because team members all have extensive experience and training in the check processing industry and recommending equipment to ISOs.
Interviewer: You keep mentioning equipment. What equipment is needed for an ISO's merchant?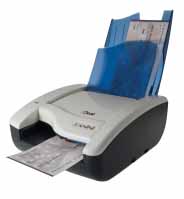 RSS: Most merchants already have credit card terminals in their possession. CrossCheck supports a variety of terminals, imagers, and check readers. Plus, ISOs will have a detailed equipment matrix of compatible point of sale devices. One great advantage of being a CrossCheck ISO is that the company will loan ISO's merchants check imagers and readers that will connect with a myriad of credit card terminals. It is recommended ISOs call (800) 654-2365 to review the equipment matrix or learn about CrossCheck's loaner equipment placement program.
Interviewer: Are all check imagers applicable to all check services?
RSS: No, many times the appropriate equipment will depend on the service the ISO is looking to add to his or her payments portfolio. It is recommended ISOs reference the equipment matrix to see if a check imager and terminal are applicable to the check service provider's supported devices. Does the ISO have an older imager and terminal, or something more current? In the end, it's highly likely CrossCheck's equipment is compatible.
Interviewer: What type of ongoing support does CrossCheck provide new ISOs?
RSS: The Partner Relations team handles pricing, commissions, etc. when signing new ISOs. Once signed, the RSS team handles questions about equipment compatibility and setup. Plus, Customer Service is available 24 hours a day, 7 days a week, 365 days per year, including holidays. That's a triumvirate dedicated to your success.
Interviewer: Why should ISOs choose to sell CrossCheck's check services?
RSS: The company's RSS team is very flexible in being able to meet merchants' needs and goals. From the merchant's perspective, our customer service department is available all day, every day.
ISOs have secure access to CrossCheck's dedicated hotline for technical assistance. This number is routed directly to the Retail Systems Support team.
CrossCheck has an appointment setter available to schedule a convenient time for ISOs and merchants as well. This is available so that a member of the RSS staff can follow-up with the account for equipment installs. Getting the merchant up and running fast is a priority for RSS. RSS team members aim to minimize merchant check acceptance down time so ISOs start earning residuals as fast as possible.
CrossCheck knows ISOs have many choices when deciding on a check service provider for their merchants. This is why CrossCheck has developed an insider's guide detailing what to look for in company philosophy, system reliability, and specific types of compensation available for ISOs. Navigate the maze of choosing a check service provider by downloading the ISO guide here.