Editor's Note: This post was originally published in February of 2014
and has been updated on August 7, 2015 to reflect new information.
After close of business each day, you collect all of your customer's checks, fill out deposit slips, and either you drive to and from the bank yourself or send one of your employees. You take all the shortcuts you know (maybe even run a yellow light or two) just so you can get to the bank before it closes to ensure you will get paid.
Tired of the hassle? Why put yourself through all that when there's a simple solution called Remote Deposit Capture (RDC) to process check payments – and guarantee them if you choose?
Here's the short of it:
RDC is a quick, simple, efficient way to add check protection services to your business, while saving time and money. No added expenses for equipment or employee training. It really is that simple!
You understand how important it is to accept check payments because for transactions greater than $100, checks are used in 1 out of 5 purchases.
What is Remote Deposit Capture?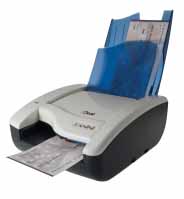 Remote Deposit Capture was made possible by the Check 21 Act of October 2004. It effectively allowed people to create a "substitute check" consisting of an image of the front and back of the paper check. This substitute check can be processed as the original check by transferring the image to the financial institution.
For your purposes as a business owner, RDC is a powerful service that streamlines the check depositing process. It involves a small check imager and a PC.
This is an example of a check scanner, called the Panini. It's about the size of a baseball cap, so it doesn't take up much space at all.
What do you mean by "remote"?
We're not talking about universal remotes with a myriad buttons to change TV channels or adjust the volume.
"Remote" means you eliminate trips to and from the bank and waiting in line to process your checks! The entire check process takes place at the point of sale or your desktop – and at your convenience. You simply scan checks through the check imager and within seconds, they're uploaded and soon after, deposited to your bank account. At this point you may cancel, shred, or return the paper check to the customer. You can then monitor your account online. Quick, easy, efficient!
What are the benefits?
With RDC, you gain access to funds up to 72 hours faster than traditional deposits. Aside from that, you no longer have to operate on banker's hours. RDC allows you to deposit at your convenience: 24 hours per day, 7 days per week, 365 days per year – at any bank of your choosing. Plus, enjoy:
No traffic

No parking problems

No waiting in lines

No buying gas

Less carbon output (go green!)
Don't forget you can monitor everything online, including batch reports, deposit generation forms, and advanced transaction recording. Need we say more?
Is the hardware expensive?
It can be – if you purchase it online or from another third party vendor. But all you need to be up and running with RDC is a PC and a check imager. Chances are you already have a PC set up so all you need is the imager.
Fortunately, there are check guarantee companies that loan you the necessary equipment free of charge. Are you OK with free loaner equipment? We are, too.
Who's using RDC?
Here are some examples of businesses that have successfully made RDC part of their daily financial process. For auto dealers in particular, there's a custom solution that combines RDC, hold check, and Check on Delivery and a rock solid revenue guarantee – all in one payment service.
Napa Ford Lincoln continues to use this custom solution, also known as C.A.R.S., to process checks, save time, and money:
What's next?
Try out the RDC calculator and estimate how much you can save by implementing remote deposit capture at your business.
You're already ahead of the game since you're considering RDC. Now put it to work for you by reading this free guide!