The Las Vegas Market has begun and I'm here on site with thousands of home furnishing dealers, store owners, designers, buyers and vendors. CrossCheck Director of Sales Jason Lindell and I are happy to be back this summer. Market week provides us a chance to meet with current and potential clients and reconnect with our pals from the North American Home Furnishings Association (NAHFA). Though much is the same here - great offerings, a positive vibe, excited buyers…there are a few changes, too. And change is good, right?
One big change is the Retailer Resource Center. NAHFA has moved from its old location in building C to its new location in building B on the 10th floor. The new Retailer Resource Center is significantly larger than the old one and is proving to be a great space! Once again the staff of NAHFA has done a fantastic job of setting up the resource center for their members. The traffic has been steady and we've had quite a few visits from both current clients and prospects alike asking about our check processing services and NAHFA member program.
Day One was highlighted by a ribbon cutting ceremony to mark the opening of the new center. The ceremony was attended by the executive board members of the association as well as members of the World Market Center and the association staff.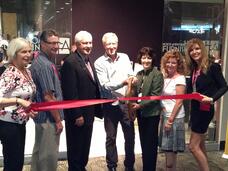 Today also has included some educational presentations as part of the complimentary Market Seminar Series. Topics covered today are old school versus new school marketing techniques, tips for driving traffic and ways to build a strong sales team.
If you're visiting the market this week I'd like to invite you to stop by and see the new Retailer Resource Center and say hello to Jason and me in the CrossCheck booth. You'll have a chance to sit for a minute and you could win $100 in chips for your gambling pleasure! We are located in the RRC at Booth 28.
Be sure to see photos from the market on our Facebook album and let us know how your market week is going.