Editor's Note: This post was originally published in April of 2012
and has been updated on June 24, 2015 to reflect new information.
Check guarantee services are an increasingly important service for merchants. This is especially true for big ticket industries because as the amount of a transaction rises above $100, one out of every five customers will want to pay with a check.
But as most merchants well know, there's a risk involved. In fact, the most recent Federal Reserve Payments Study found that nearly 66.4 million checks were returned unpaid in 2012. And the average value of these unpaid interbank and on-us checks was $1,224 and $1,432, respectively.
Considering how common check payments are, many businesses' profitability and future success depend upon guaranteeing revenue from checks. Check guarantee services maximize sales while simultaneously reducing your risk.
Here are the 5 W's:
What – What is check guarantee? Check guarantee providers reimburse merchants for checks approved in accordance with their Service Agreement that have been returned unpaid, virtually eliminating the risk inherent in accepting checks. This is different than check verification, which provides only a "recommend" or "not recommend" message to the merchant and does not provide a guarantee or money if anything goes wrong.
For a complete breakdown of check verification vs. check guarantee, watch this webinar.
Why – Unpaid, returned checks cost your business more than the check's face value – as demonstrated by the chart below. For example, if your business has $5,000 in delinquent checks, and operates a 3% net profit, you will need an extra $166,667 in revenue to offset those bad checks:
On the other hand, being able to accept checks can maximize big ticket sales.
To learn more about check guarantee, read our free insider's guide here
How – How does check guarantee work? When a check is returned unpaid, the merchant simply mails it to the check guarantee provider in a claims processing envelope for processing, and the check guarantee company reimburses the business for the face amount of the check.
The total time from claims submission to reimbursement generally takes about 30 days - much shorter than the time it would take for the business to collect payment on its own or by hiring a debt collection agency.
If you circumvent snail mail, the process is even faster – and seamless. CrossCheck's Remote Deposit Capture (RDC) Plus service allows businesses to deposit checks right at their point of sale. With RDC Plus, merchants never see returned checks and their account remains whole. The merchant's approved checks are funded within 48-72 hours.
For complete RDC details, we encourage you to watch the RDC webinar.
Where – Most check guarantee providers can approve checks one of three ways: at the point of sale, over the phone, or via the Internet. Compatible point of sale equipment can even be loaned free of charge by some check service providers. Whichever method your business prefers, the guarantee reassures you of payment. What's not to like?
When – When should you implement check guarantee? The sooner the better. Without it your business remains vulnerable to returned checks -- and a potentially a large drain on your company's resources to collect payment or to replace that lost revenue.
Who – Many business types find check guarantee suitable because they like the safety it provides. Automotive dealers, automotive aftermarket, home furniture stores, building materials, heavy equipment, veterinarians, and medical offices are only a few of the business types that thrive on it. Merchants can even tailor a check guarantee service to their specific needs with industry programs.
As one Texas Auto Dealership explains it, "CrossCheck quoted us exceptionally low rates for their check guarantee service…I can surely recommend this company due to their fees, customer service, and timely deposits." Great reviews like this show why we've earned an A+ rating by the Better Business Bureau. You may read other check guarantee testimonials here.
The real question may be: Can your business afford to go without a check guarantee service? Learn more about check guarantee; start approving more checks, mitigate check payment risk, and maximize your sales today.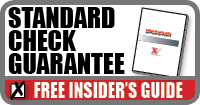 Tags: CrossCheck