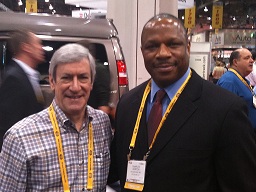 I love working with the automotive industry. The dealership clients my company serves are a very diverse and dynamic group of people.
Throughout the year I have various opportunities to interact with a lot of dealer clients, but nothing allows me more face time with them than the annual NADA show.
This show is held every year in February and rotates each year between San Francisco, Orlando, New Orleans and Las Vegas. This year's show is being held in Las Vegas. If you've read my previous blog posts you'll see that I'm now on day seven, conference number two, here in the desert and still going strong! (Conference one - Western Home Furnishings Association Las Vegas Market Day 1 Recap - Day 2 - Day 3)
This year's show began today at the Las Vegas Convention Center. The excitement and energy from all in attendance was understandably very high.
CrossCheck's booth is located at space number 1823, which as it turns out, is a great location for us in terms of exposure. This was evident today as we were visited by 60 current and prospective clients.
Many stopped by our booth to enter and win a bottle of Sonoma County's finest wine, a wine
bottle opener, and, or a Ruth's Chris gift certificate.
Our current clients took the time to thank us for providing them with tools to increase sales, reduce risk and improve cash flow. One valued client, Kevin Massie, President of Napa Lincoln Ford, has this to say in a video testimonial.
The prospective clients were all taken through a demo of our new C.A.R.S. product, which allows for electronic processing of personal and business checks including future deposits.
We were also visited by fellow association members from the Hawaii, Michigan, Virginia, Houston, General Motors Minority, Ford Motors Minority and Colorado Auto Dealers Associations.
We were able to drive traffic to our booth via social media avenues such as LinkedIn, Facebook, Twittter and YouTube so hats off to the CrossCheck Marketing team for a job continuously done well.
I'm now off to a networking reception with the Virginia, Maryland and Washington Auto Dealer Associations. Two more hours of valuable one-on-one time with prospective dealer clients and then I'm back at it tomorrow.
Tags: National Automobile Dealers Association (NADA), Charles Dortch III, CrossCheck