Each year during the first week of November, the Specialty Equipment Market Association (SEMA) hosts the SEMA Show for auto aftermarket dealers. The annual trade show welcomes industry professionals in manufacturing, sales, distribution and marketing of specialty-equipment parts, accessories, vehicle customization and vehicle performance enhancements. The 2017 SEMA show takes place October 31 – November 3 at the Las Vegas Convention Center in Nevada.
SEMA drives auto aftermarket dealers to the trade-only event by providing educational sessions, a packed exhibit hall and networking opportunities. Compelling features include:
More than 2,400 exhibiting manufacturing companies
Over 140,000 attendees — 25 percent international attendees, nearly 70,000 buyers and over 3,000 automotive media outlet representatives
2,500 new products and counting displayed in the exhibit hall
Over 2,400 exhibiting companies
Seminars, Workshops and Sessions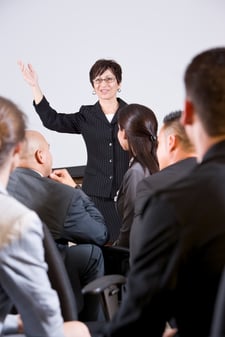 Education sessions — seminars, workshops and sessions — begin Monday October 1, one day before the 2017 SEMA Show begins. Session are free to attend in categories consisting of Automotive Electronics, Brew Talks, Builders, Business Management, Business Technology, Industry Trends, International, Keynote & Coffee, Legal & Regulatory, Marketing & Sales, Social Media, Talent Management, Tires, Vehicle Accessorization, Women Driven, Vehicle Technology, Automotive Electronics, SEMA Launchpad: The Next Great Business, SEMA Data Co-Op and SEMA (a seminar that provides member resources). The SCRS Repairer Driven Education (RDE) Series and I-Car: Inter–Industry Conference on Auto Collision repair are pay-to-attend sessions.
Women Driven sessions present networking, discussions and education for female professionals. Hosted by the SEMA Businesswoman's Network (SBN), the Gear Up Girl Networking Event connects students with leaders within the industry for an unstructured networking mixer. Women in Leadership Roundtable by SBN explores the day-to-day experiences of women within the auto industry. Topics range from work-life balance to equal pay and career opportunities.
Powered by the Tire Industry Association, Tires sessions consist of tire dealers sharing industry secrets, discussing the current state of the tire industry, strategies on how to reach millennial shoppers and more. The Art of Balancing for example, dives in to the changes and challenges of tire and wheel balancing. A panel of "balancing experts" will present steps for improved results.
Attendees will review new vehicle technologies, off-road signs, retail trends and more at Industry Trends sessions. With SEMA market research, auto aftermarket dealers can gain a more detailed understanding of the industry's customer base in the session Who Are your Customers? Presenters will share the six "specialty-equipment buyer types" categorized by SEMA.
Exhibit Hall Features
Exhibits will be sectioned into five halls. The North Hall will hold a collision repair and refinish section, mobile electronics and technology, car care accessories, tools and equipment. The Central Hall will showcase custom-built hot rods in Hot Rod Alley and restored vehicles in Restoration Marketplace, along with exhibiting products for racing and performance. South Hall Upper will contain business services, powersport and utility vehicles, trucks, SUVs and off-road vehicles. A global tire expo, wheels and accessories will be found in the South Hall Upper. The Performance Pavilion will house first-time and featured exhibitors. Attendees can refer to the interactive floor plan to search for exhibitors, booths and product categories.
Services for Auto Aftermarket Dealers
The 2017 SEMA show offers a wide variety of educational sessions, tools, services, professional growth and networking events, and one-of-a-kind vehicle displays for auto industry professionals. Auto aftermarket dealers will also find business-enhancing tools and services at CrossCheck.
As a payments guarantee company with over 30 years of experience, CrossCheck offers payment solutions for US merchants that stimulate sales, mitigate risk and save time. Our Multiple Check program allows dealers to work with customers to establish an agreed upon payment plan. Customers write 2 – 4 checks that are deposited over a 30-day period. Customers take their items home on the purchase date while receiving extra time to replenish their checking accounts. Dealers receive guaranteed funding of each approved check. Learn more by downloading our free guide.