I just returned from visiting the 2019 NADA Show, a four-day annual conference by the National Auto Dealers Association (NADA). This year's event was held Jan. 24 – 27 at Moscone Center, a complex composed of three buildings on 87 acres in downtown San Francisco. This is a really big show with 22,000 attendees, including 10,000 new auto dealers from all over the country. The tradeshow floor is enormous, and some individual exhibits are the size of small department stores.
I was joined by three members of the CrossCheck Sales team (L to R below): Director Jason Lindell, Senior VP Charles Dortch III, and Telesales Representative Jeff Rawlinson from our office in Irving, Tx. Each has extensive experience in the area of accepting guaranteed checks for down payments at auto dealers (more about that later).
About NADA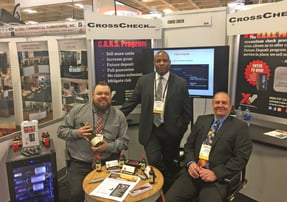 NADA advocates on behalf of its members in a number of ways. Recently, NADA testified before the U.S. Department of Commerce about tariffs. Under a 25 percent tariff, the price of a new imported car would rise by $4,400 because consumers pay the price of the tariff. Prices of U.S. assembled vehicles would rise by $2,270. A similar initiative is in place to repeal the federal excise tax on heavy-duty trucks. Other initiatives include guiding the government on workforce training and maintaining a commitment to fair credit practices. A dealer could not address these things individually, but collectively through NADA, they can, which is one reason why NADA is so important to auto dealers.
The NADA Show Exhibit Hall
Dealers do not exhibit at the tradeshow, but just about every vendor who calls on them does. The exhibits include everything from full-size functional auto alignment and car wash booths, to vendors offering professional services (insurance, investments, accounting, public relations, finance and capital provisioning), to dealer management systems, to aftermarket products that go in or on a car, to … well, you get the idea. The show also provides a snapshot of what dealers are talking about to improve their businesses right now.
What Are the Concerns of Auto Dealers?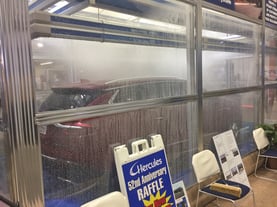 Increasing profitability on new car sales is probably the number one concern for auto dealers, but another concern that is also troubling— the critical shortage of service technicians.
Did you know that U.S. dealers will need 76,000 new service technicians every year between now and 2026, but only 37,000 new techs are graduating from tech schools? This leaves a shortage of 39,000 new auto techs per year. Compounding the problem, new cars are getting more and more complex, and the skill and training level for techs is increasingly exponentially.
What Are the Challenges for Auto Dealers?
Auto dealers represent one of the most important business models driving the American economy. Last year, the 16,794 factory franchise dealers sold 17,274,250 new vehicles while the average new car sold for around $35,000. Of course, these dealers also sold a lot of used cars. These dealers employ about 1.1 million people, including about 750,000 service technicians. In addition, the average employee earned $71,916 in 2017. You can see what an enormous impact this has on the American economy.
Running an auto dealership is a challenging business. Consumers like to believe auto dealers make a big margin on new car sales, but just the reverse is actually true. It is impossible to get numbers on privately held dealerships, but the large publicly traded dealer groups have a gross margin of less than 2 percent.
The most profitable areas for a dealer is parts and service, aka "fixed ops," and the second most profitable area is used car sales. New car sales are a distant third. It is a very competitive business!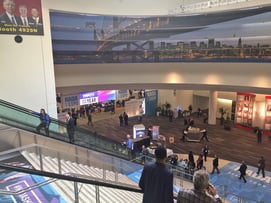 One of the greatest challenges facing auto dealers is keeping up with the constantly changing consumer preferences and demands.
Enhancing the consumer experience is another challenge. For example, some consumers want to buy online, but lenders still require wet signatures.
A recent article in Automotive News related the story of one customer of an online dealer who needed "four online chat sessions, eight phone calls, and 15 pieces of paper to sign upon delivery – and he had even arranged his own financing." Clearly, there is room for improvement in the consumer experience.
There are three additional challenges for all auto dealers:
Today, the average dealer uses six-plus software systems to run its operations.
It takes the average customer three-plus hours at the dealership to buy a car.
Fully 64 percent of car buyers said financing and paperwork took longer than expected.
These problems need to be addressed now, and dealers attend the NADA show to find solutions that will help them do just that.
What Are Auto Dealers Talking About?
Right now, there is a lot of hype about new products such as data mining and artificial intelligence, but as one vendor put it at the show, "Dealerships are in the people business, not the science fiction business."
Auto dealers are told many things:
There is a digital revolution going on.
They need to bridge the gap between online searching and in-store purchasing.
They need to create a paperless experience for every customer on every deal.
They need to "enhance the customer car buying experience with the latest technology."
Furthermore, there is a lot of press about how Americans will stop driving cars and use autonomous vehicles or ride sharing, but this is indeed science fiction. In fact, if a person used a ride sharing service regularly, it would cost them twice as much as operating their own vehicle over the same distance.
Americans value convenience above all else. With that, they want the independence and freedom of getting in their own car and going anywhere they want, whenever they want.
CrossCheck Provides Convenience to Consumers and Auto Dealers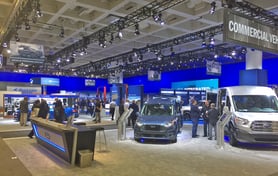 CrossCheck provides convenience by standing in at point of sale and helping to complete sales that would otherwise not happen.
The consumer writes a single check or series of checks to be deposited in the future (if the dealer is using our Multiple Check service). We guarantee those checks for dealers because they don't know if the checks are going to clear or bounce.
For a small fee — about 25 percent of what a credit card transaction would cost — we provide the software and the scanner, take the image file of the check(s) from the scanner, and actually do the banking for dealers who use our Electronic Check Processing.
If a check bounces, we cover it so the dealer is never out the money. We stand in the background and the consumer does not even know we are there. The consumer gets to drive off with the car of their dreams and the dealer gets to make an additional sale. Thousands of dealers rely on CrossCheck today, and that is reality, not science fiction!
Download our free guide to learn how Multiple Check can help increase sales and mitigate risk while saving time and money at your dealership.