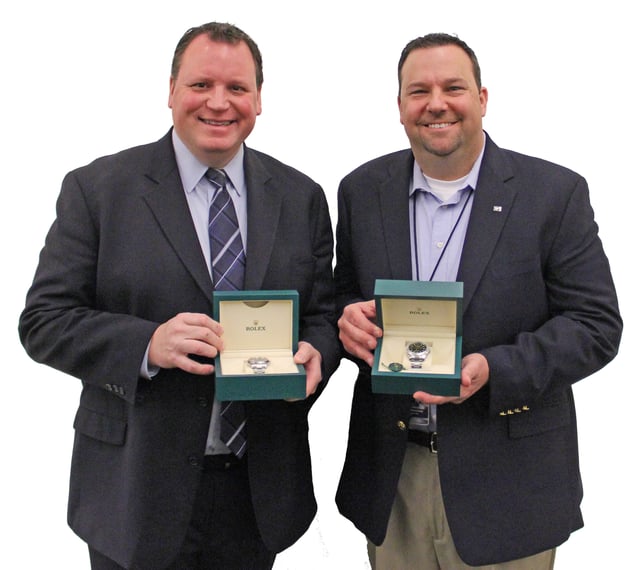 Petaluma, Calif. (December 20, 2016) — In an era when few employees spend the better part of their careers working for one organization, two CrossCheck executives were recognized this month for 25 years of service with the privately held check-processing company: President and CEO J. David Siembieda and Senior Vice President Mike Harris. Their stories of rising through the ranks, broadening their responsibilities and guiding the firm into the 21st century have been an inspiration to the lives they have touched over the years.
Siembieda (above right) and Harris (above left) are alumni of Sonoma State University and active in trade organizations as well as the local community.
President and CEO J. David (Dave) Siembieda
Siembieda is responsible for the day-to-day flow of CrossCheck and understanding the function of each department while being tasked with controlling the budget; monitoring the national market, competition and tech trends; and developing new concepts and industry affiliations. Departments reporting directly to him include Customer Service, Legal, Partner Relations, Petaluma Telesales, Field Sales and Product Development. He spent nine years in the Sales and Consumer Relations departments before being promoted to head the firm in October 2000.
"Dave Siembieda's individual success within the company as well as his ability to develop employees and strategic partnerships have been invaluable resources," said CrossCheck Executive Vice President and COO Chris Schumacher. "His strong leadership qualities and vision make him the ideal person to lead our company into the next decade."
Siembieda has served on the Electronic Transaction Association board of directors, The Green Sheet (a financial services publication) advisor board, and the Wells Fargo Center for the Arts (aka Luther Burbank Center) board of directors. In 2010, he was named one of the "Most Influential Leaders in the North Bay" by the North Bay Business Journal for the counties of Sonoma, Marin and Napa. He is an American Legion Baseball coach and has a bachelor of arts in business administration.
Senior Vice President Mike Harris
Harris manages the daily operations and budgets of four CrossCheck departments: Merchant Analysis and Control (MAC), Claims, Underwriting and Risk Management, and Merchant Acquisition. He held management positions in the Sales and Consumer Relations departments before assuming his current role in December 2001. He earned a bachelor of arts in accounting and economics.
"Mike Harris is well-known for his expertise in analyzing financial data and risk management as well as his long-range budgetary planning," said Siembieda. "He is a great asset to our organization and the Sonoma County community."
Harris was a member of the Petaluma City Council for three terms (one year as vice mayor) and is the incoming president of the Petaluma Chamber of Commerce. He has been the chairman of the Technology Advisory Committee for Petaluma (2008 – 2009), Youth Commission for the City of Petaluma (2013) and Transit Advisory Committee (2009 – 2010). He was also a member of the Petaluma Planning Commission and Sonoma County Airport Commission.
His active community service includes Friends of the Santa Rosa Junior College Trust-Petaluma Campus (2015 – present; chairman-elect), Miwok District of the Boy Scouts of American board of directors (2015 – present), and Petaluma Valley Hospital Foundation board of directors (2016 – present; current vice president).
About CrossCheck
CrossCheck, Inc., an established leader in the payment solutions industry, processes billions in check-transaction dollars annually throughout the United States. Since 1983, it has helped increase profits and reduce risk for businesses in verticals such as automotive, auto aftermarket, building materials, home furnishings, specialty retail, medical-dental and veterinary by providing efficient and affordable check verification, guarantee and conversion services. CrossCheck's suite of services includes check conversion technology, web-based transactions, remote deposit capture and premium products for specific industries and applications. The company has offices in Petaluma, California and Irving, Texas.
###
Contact
Andrew Donahey
707-665-2100 x9503
andrewd@cross-check.com