FOR IMMEDIATE RELEASE
Petaluma, California (August 23, 2017) — CrossCheck, a payments guarantee company, has promoted Don Werstler to the position of manager, Facilities and Business Services. He is the senior person in his department and reports directly to Executive Vice President and Chief Operating Officer Chris Schumacher. Werstler joined CrossCheck as the assistant manager of Facilities and Business Services (F&BS) in October 2012.
"Don has been instrumental to the success of Facilities and Business Services," said Schumacher. "His ability to assimilate tasks and process on the fly is a great asset to CrossCheck."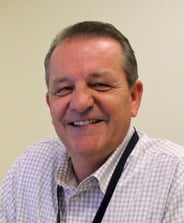 Werstler has over 20 years of management experience with 15 years of effective site services control. He also draws heavily from his military background as a retired chief petty officer in the U.S. Navy.
In his new role, he will train and manage the F&BS team, maintain all building and ground systems at multiple company locations, including but not limited to HVAC, electrical, telecommunications, fire protection, security and utilities. He will also oversee department expenses, develop cost-saving strategies, develop security system procedures and manuals, and manage shipping/receiving, mail and in-house printing functions.
"I look forward to building upon the sound structure that existed before my appointment," said Werstler. "Our department will continue to provide a level of service allowing others to do what they do best. We will also focus on data security such as compliant file storage and shredding."
Werstler spent 21 years in the Navy, including 13 years on two ballistic-missile and two fast-attack submarines. He received extensive training in damage control and firefighting, Department of Defense supply logistics and culinary arts at institutions such as the Naval Submarine School and Johnson & Wales University, College of Culinary Arts.
About CrossCheck
CrossCheck, Inc., an established leader in the payment solutions industry, processes billions in check-transaction dollars annually throughout the United States. Since 1983, it has helped increase profits and reduce risk for businesses in verticals such as automotive, auto aftermarket, building materials, home furnishings, specialty retail, medical-dental and veterinary by providing efficient and affordable check verification, guarantee and conversion services. CrossCheck's suite of services includes check conversion technology, web-based transactions, remote deposit capture and premium products for specific industries and applications. The company has offices in Petaluma, California and Irving, Texas.
###
Contact
Andrew Donahey
707-665-2100 x9503
andrewd@cross-check.com
www.cross-check.com