FOR IMMEDIATE RELEASE
Petaluma, Calif. (October 18, 2016) — CrossCheck, a leading provider of check processing services in the nation, recently conducted a two-week fundraiser to support the efforts of the Alzheimer's Association. Employees from all company locations donated a total of $1370 via $20 individual contributions that qualified them for "dress down days" through October 14.
Furthermore, a cooperative effort with Chipotle restaurant in Petaluma yielded another $331 on July 26 when 50% of CrossCheck employee purchases assisted in fighting the disease (see below photo).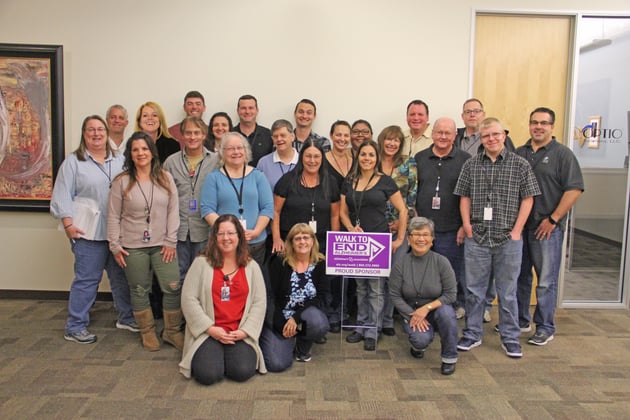 The Alzheimer's blog recommends that everyone with the disease should enroll in a clinical study. "It is through clinical studies that researchers learn how brain changes caused by Alzheimer's disease offer potential targets for new drugs that may stop or slow the progress of the disease."
The sixth-leading cause of death in the USA, Alzheimer's is a brain disease that causes a slow decline in memory, thinking and reasoning skills.
"Once again, our employees rallied behind a worthy cause to support the global community," said President and CEO J. David Siembieda. "Their contributions help underwrite the efforts of the Alzheimer's Association as it promotes awareness and conducts invaluable research."
About the Alzheimer's Association
Formed in 1980, the Alzheimer's Association advances research to end Alzheimer's and dementia while enhancing care for those living with the disease on a global, national and local level. The organization's website provides useful information including links to the "10 Early Signs and Symptoms of Alzheimer's" as well as its online research center and peer-reviewed academic journal.
About CrossCheck
CrossCheck, Inc., an established leader in the payment solutions industry, processes billions in check-transaction dollars annually throughout the United States. Since 1983, it has helped increase profits and reduce risk for businesses in verticals such as automotive, auto aftermarket, building materials, home furnishings, specialty retail, medical-dental and veterinary by providing efficient and affordable check verification, guarantee and conversion services. CrossCheck's suite of services includes check conversion technology, web-based transactions, remote deposit capture and premium products for specific industries and applications. The company has offices in Petaluma, California and Irving, Texas.
###
Contact
Andrew Donahey
Phone: 707-665-2100, ext. 9503
Email: andrewd@cross-check.com
Website: www.cross-check.com