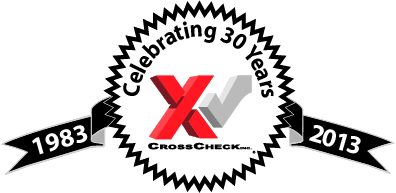 PETALUMA, Calif. - CrossCheck, Inc., a Northern California financial services institution providing check processing services to merchants across all 50 states, turns 30 years old this month. CrossCheck, headquartered in Petaluma, California with offices in Dallas and Phoenix, employs 229 people and serves tens of thousands of merchants.
"Over the years, our check processing products and employees have withstood 30 fulfilling years in Sonoma County. We help keep companies in business," stated Timothy LaBadie, Chairman of the Board. "When partnering with CrossCheck, businesses offer more payment options to consumers, allowing them to purchase items, afford repairs, and pay for services on their terms, all while offering the merchant peace of mind and the ability to make that sale."
Over its 30 years, CrossCheck has provided thousands of jobs to the Northern California community, and continues to be one of the area's largest employers. The company has contributed far more than just job security. "Being charitable to the people around us is a top priority at CrossCheck," said J. David Siembieda, CrossCheck's President and Chief Executive Officer. Last month, employees bonded together to contribute over $7,500 to the American Cancer Society's Relay for Life, ranking them among the top 20 groups in the state. The company also regularly contributes to the Redwood Empire Food Bank, Salvation Army, COTS, and other local organizations.
"We are experiencing a revolution in the way people pay for things," said Chris Schumacher, CrossCheck's Executive Vice President and Chief Operating Officer. "CrossCheck has evolved, in a technology-driven industry over these decades, and we continue to thrive." Schumacher goes on to note, "Despite all the changes to credit and debit cards, Americans continue to pay for things with checks. In fact, according to the FDIC's latest unbanked and underbanked survey, 9 out of 10 Americans still have checking accounts, and have no plans to stop using them."
About CrossCheck, Inc.

Since 1983, CrossCheck has led the way in developing and marketing innovative financial services and payment technologies, including check verification guarantee, electronic check processing, and remote deposit capture. CrossCheck's services help increase sales, reduce risk, improve customer service, and are a convenience to a variety of businesses. New car dealers, auto aftermarket, building supply stores, specialty retail, home furnishing stores, medical offices, and small businesses can safely accept checks from their customers with the company's services. Visit www.cross-check.com for more information.