Tip Sheet at a Glance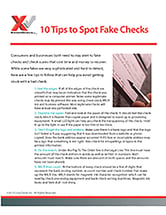 Our tip sheet will help you identify fake or altered checks before you accept them, and before they cost you or your business money.
Believe it or not, bad checks cost your business more than the face value of the check.
Identify fake and altered checks with our 10 easy-to-follow tips.
Download our tip sheet to learn:

Basic check requirements.

Physical clues that may indicate a fake check.

Specific "checks and balances" to help you identify real notes.


Security features to look out for.
Submit the form to download the free guide now.